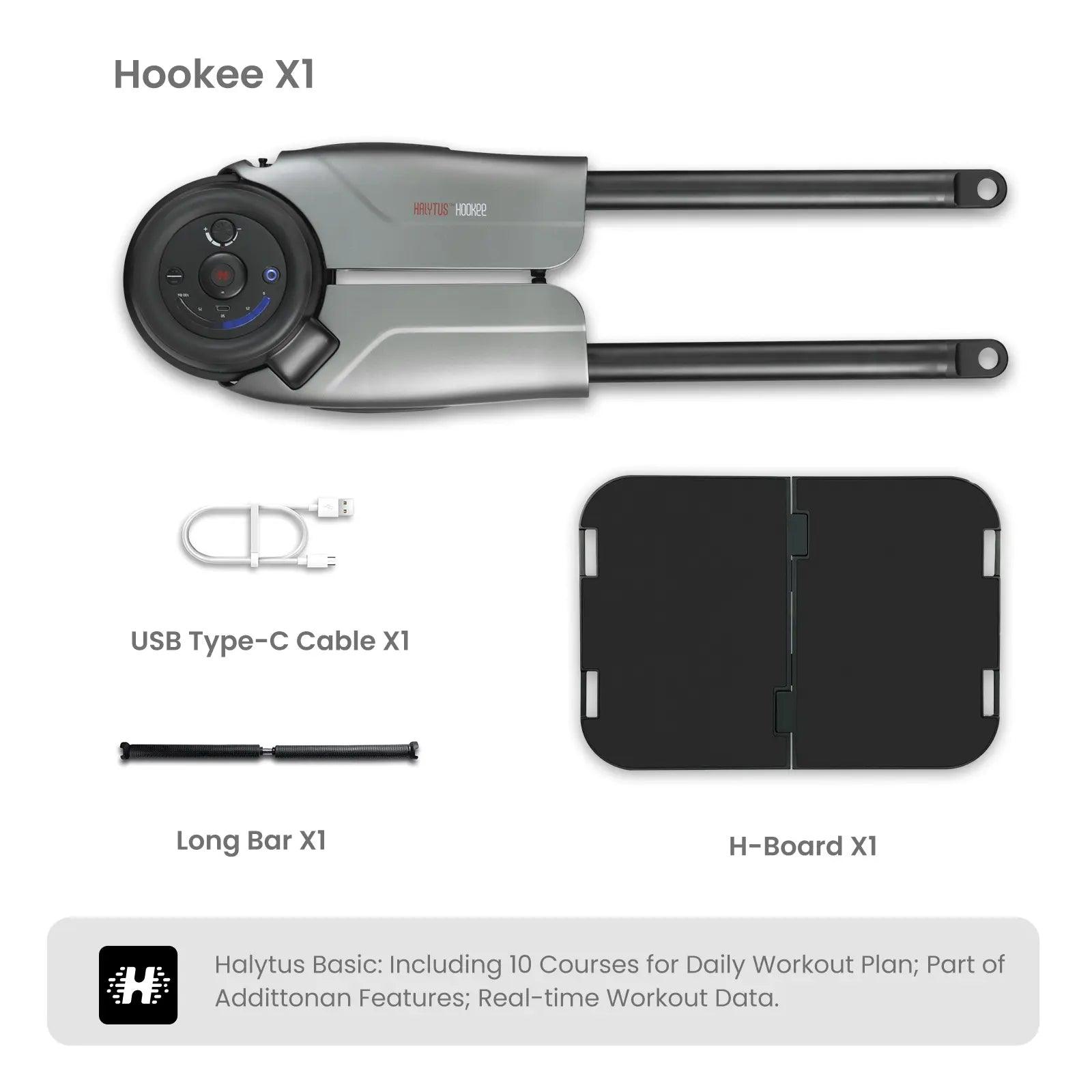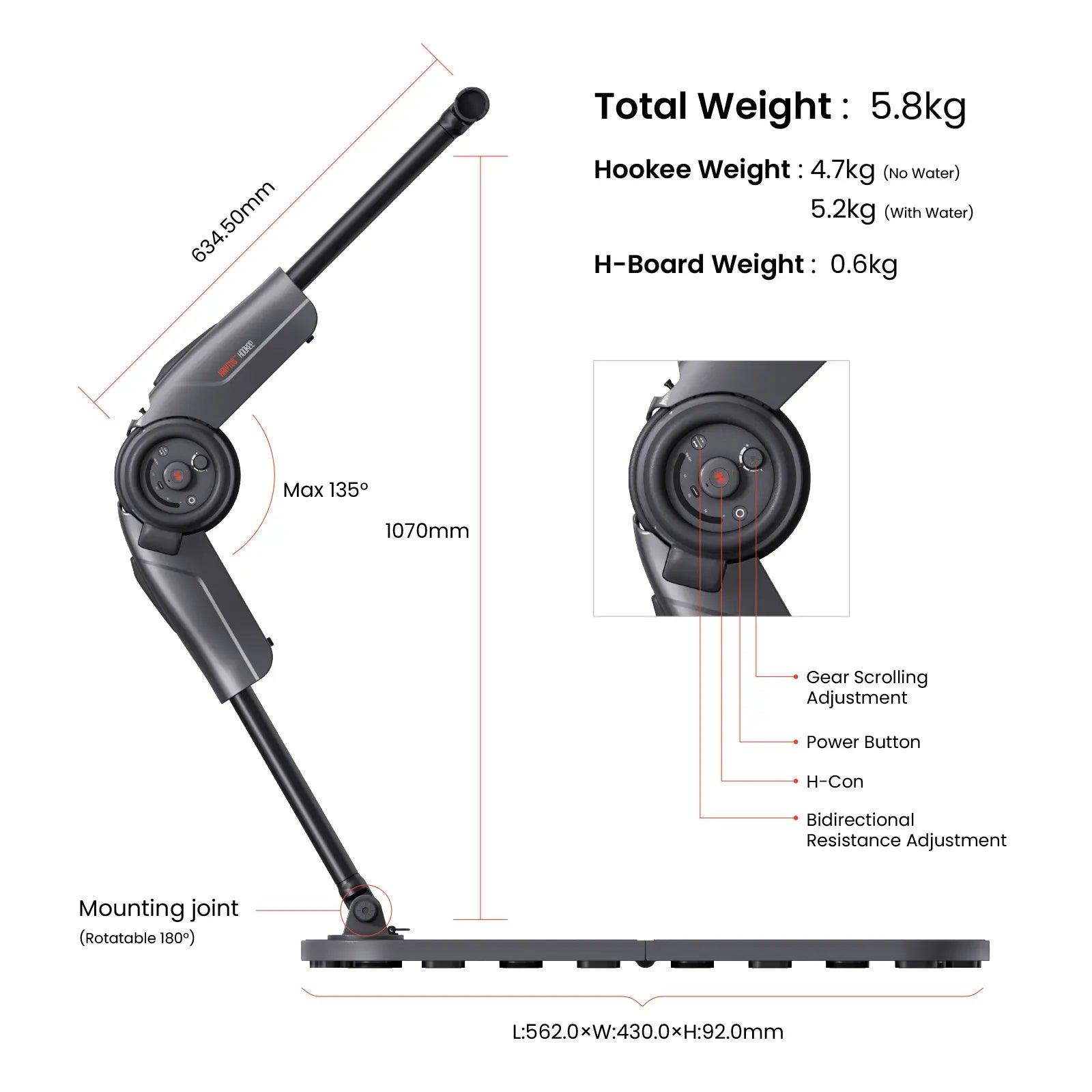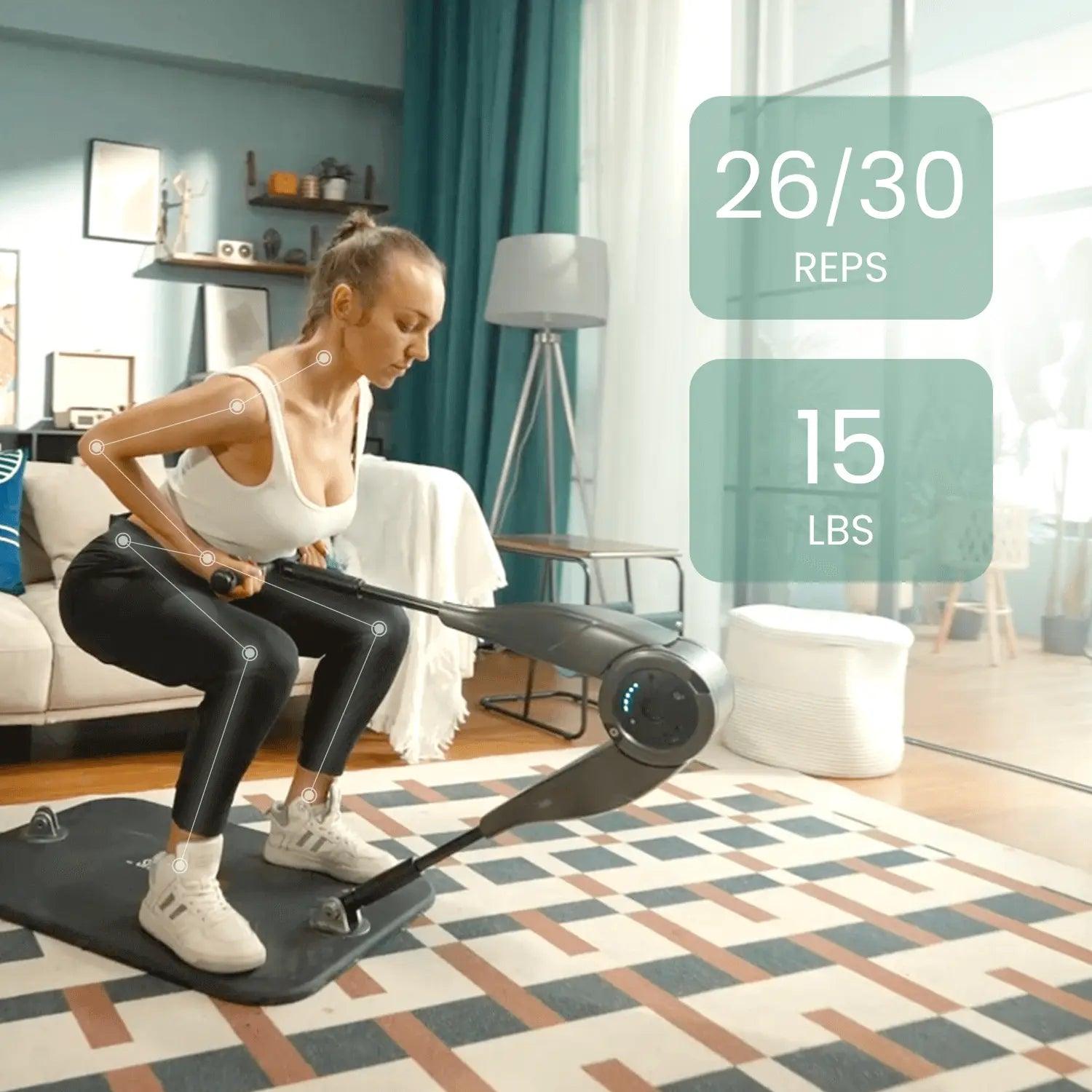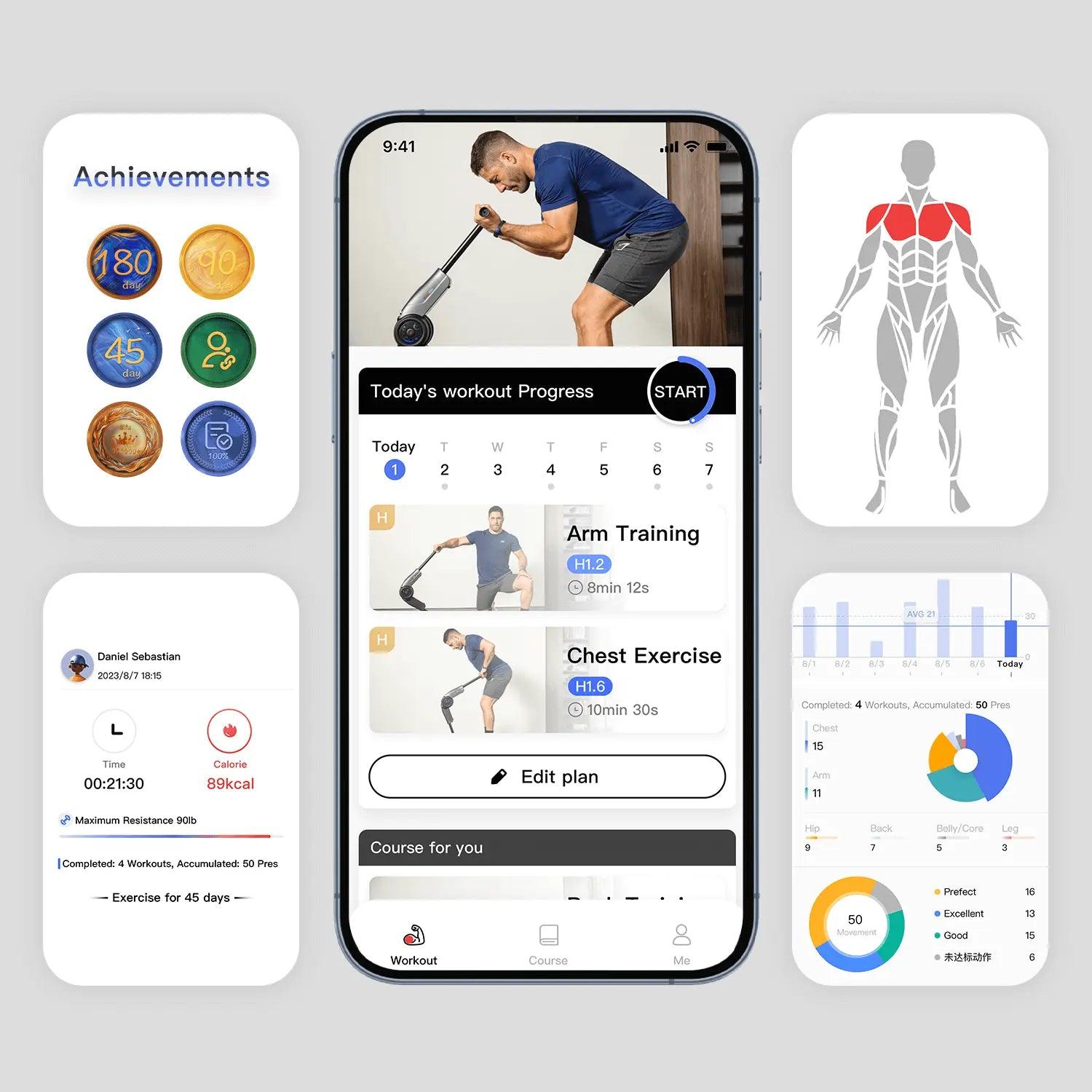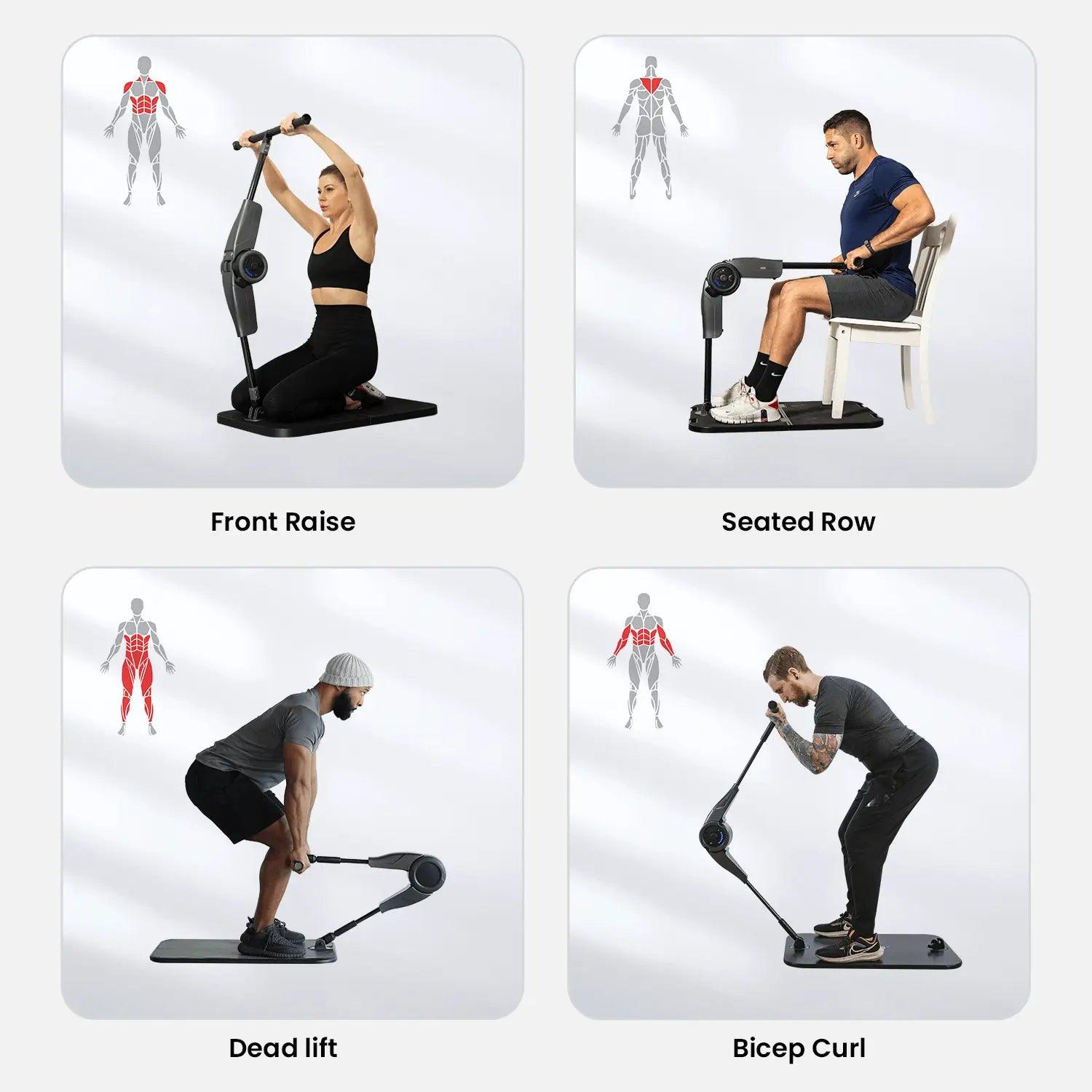 Hookee Standard
---
Smart Fitness Equipment for Daily Workout

HydroFlex® Tech for Strength & Fitness

Multi-variable & Constant Resistance

Ultra-Low Power Consumption

H-Con Remote Controller

Safe and Convenient Storage
Save Up to 20% & Free Shipping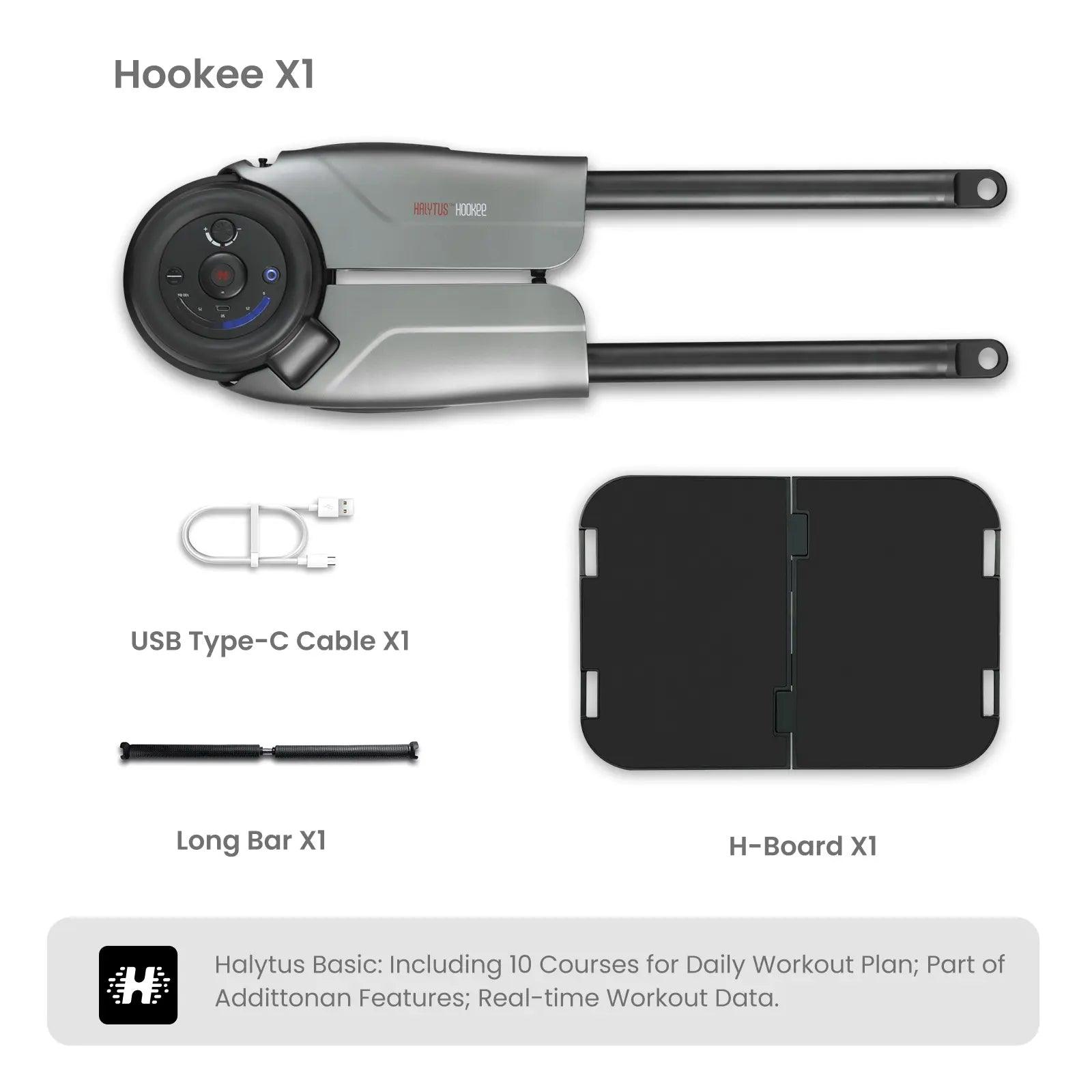 Multi-variable & Constant Resistance
Max 100 lbs (45kg)
Roller Adjustment Resistance
Constant Resistance Output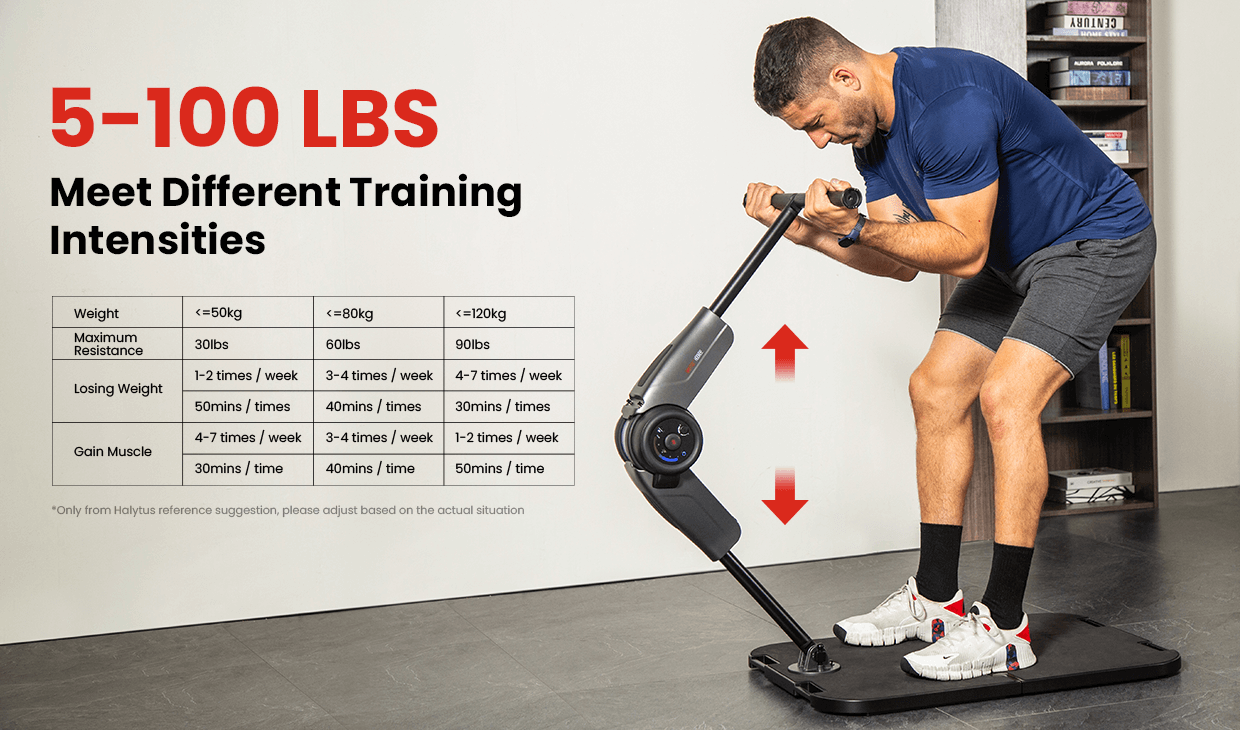 Resistance from 5 to 100, perfect for fitness enthusiasts of all levels, from beginners to experts.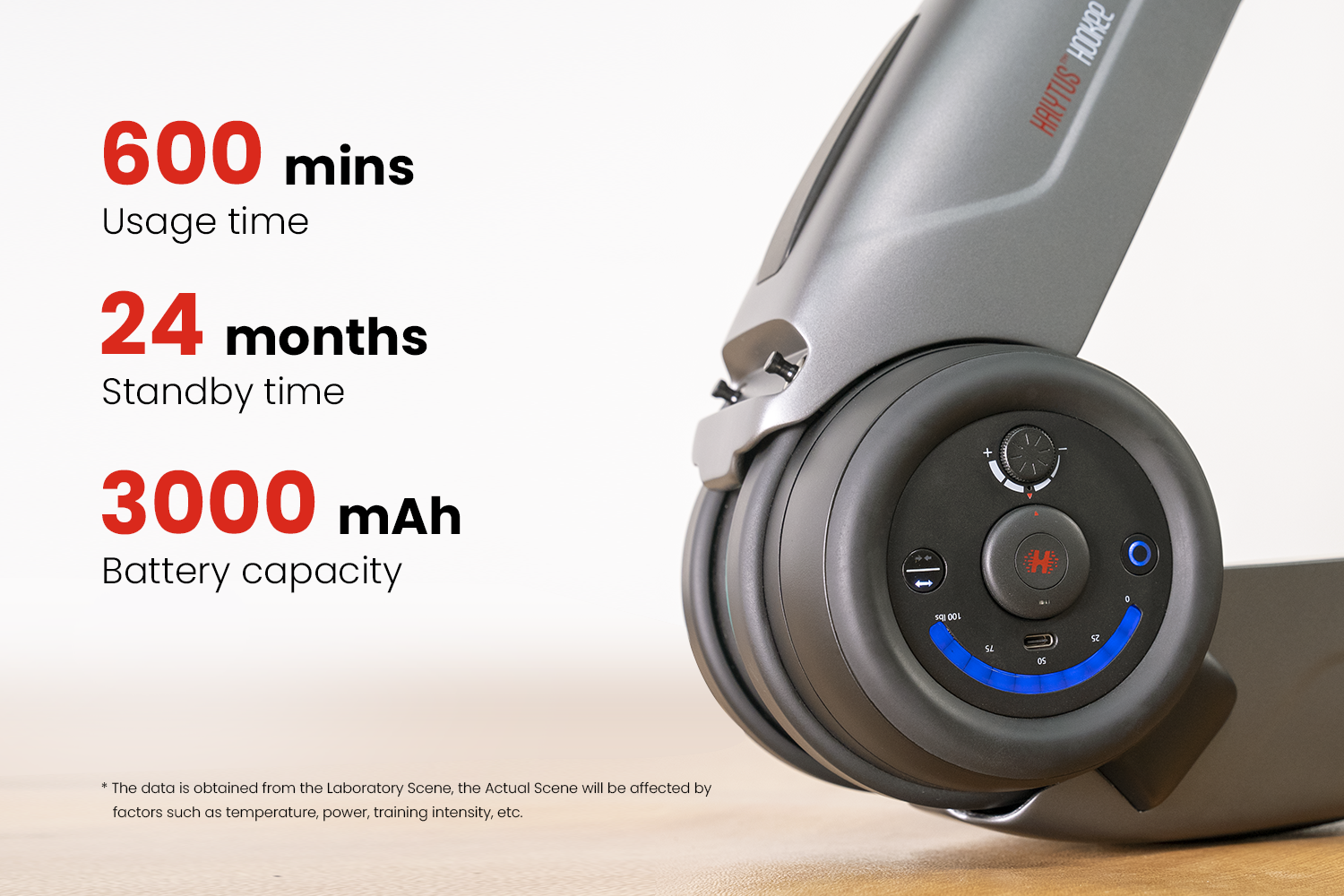 Ultra-Low Power Consumption
Maximize efficiency with extended battery life. Uninterrupted workouts, stay powered throughout your fitness journey.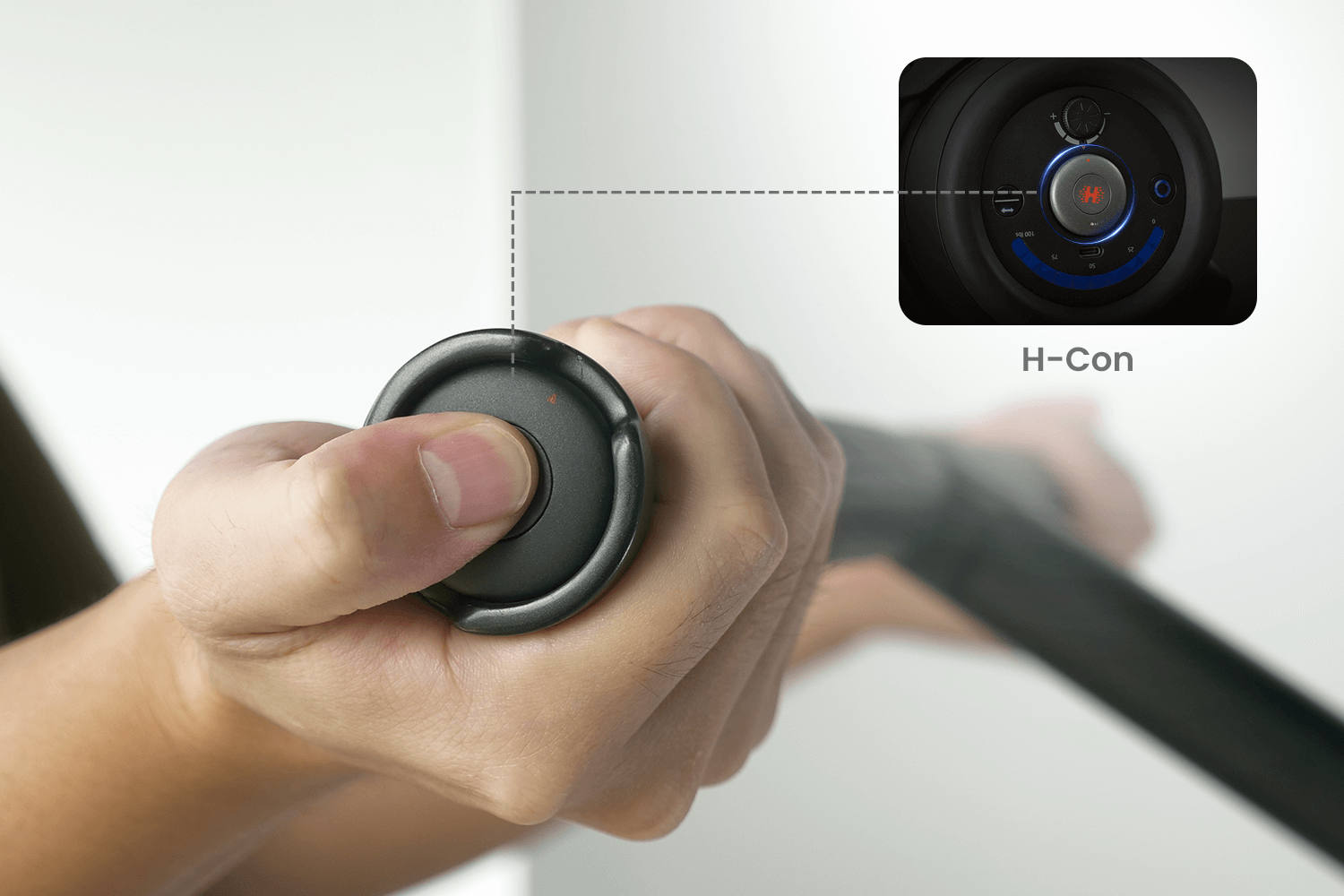 H-Con Remote Controller
Install this mini remote controller on Hookee's handle for seamless app navigation with just one click. Enjoy a hassle-free workout experience.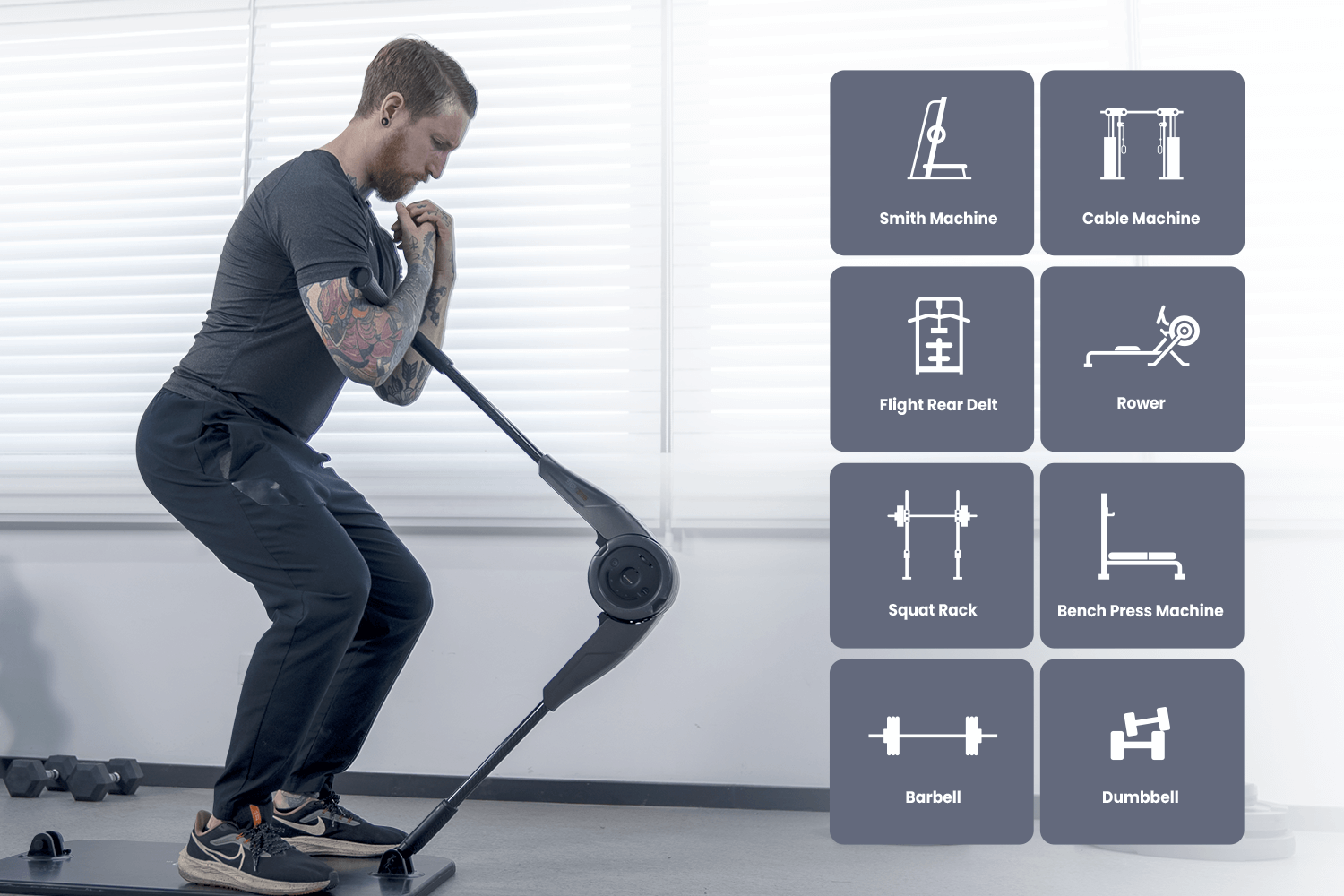 Home Gym Machine
Take your home gym anywhere and work out your entire body without taking up valuable space or incurring expensive gym costs.
Effective & High Power Workout
Yes, we ship all over the world. Shipping costs will apply, and will be added at checkout. We run discounts and promotions all year, so stay tuned for exclusive deals.
How long will it take to get my orders?

It depends on where you are. Orders processed here will take 5-7 business days to arrive. Overseas deliveries can take anywhere from 7-16 days. Delivery details will be provided in your confirmation email.
What is the warranty for Hookee?

The first year of warranty for Hookee is free, provided that the damage is not caused by human factors. For the second and third year, some of the components can be covered by warranty, but not all of them.
How does Hookee compare with other fitness devices?

HooKee is the first to reach 100 lbs max resistance with such a small size. Hookee also provides full-body workouts with over 100 exercises, especially for lower body workouts, which are beyond the reach of most portable fitness devices. Compared to professional gym equipment and a large digital weight system, HooKee takes up little to no space at your home.
How long does it takes fully charge Hookee? And how long will it last?

It takes around 4h to fully charge Hookee. And Hookee can last over 10,000+ reps with max load with one single charge.
Which muscle groups can Hookee train?

Hookee is able to train all your muscle groups, including the chest, back, leg, shoulder, bicep, and tricep. We also provide you with free courses designed by professional trainers.
What are the functions of the accessories?

H-Con: A remote controller to seamlessly navigate Hookee with Halytus App.
H-Board: A baseboard to fix Hookee on the ground, and enable more exercises, especially lower body exercises.
Long-Bar: Double side upper/lower body exercises. Works better with the H-board.
D-Handle: The multi-functional handle which can be used for functional and isolation training.
H-anchor: Expands to fix Hookee on a door, unlocking dozens more movements for the upper body.
You can contact us via info@halytus.com. We will be happy to assist you.
Our customer support is available Monday to Friday: 8am-8:30pm.
Average answer time: 24h
What's in the Box
Hookee Standard
Including Hookee*1, H-Board*1, Long Bar*1, Halytus Basic,USB Type-C Cable*1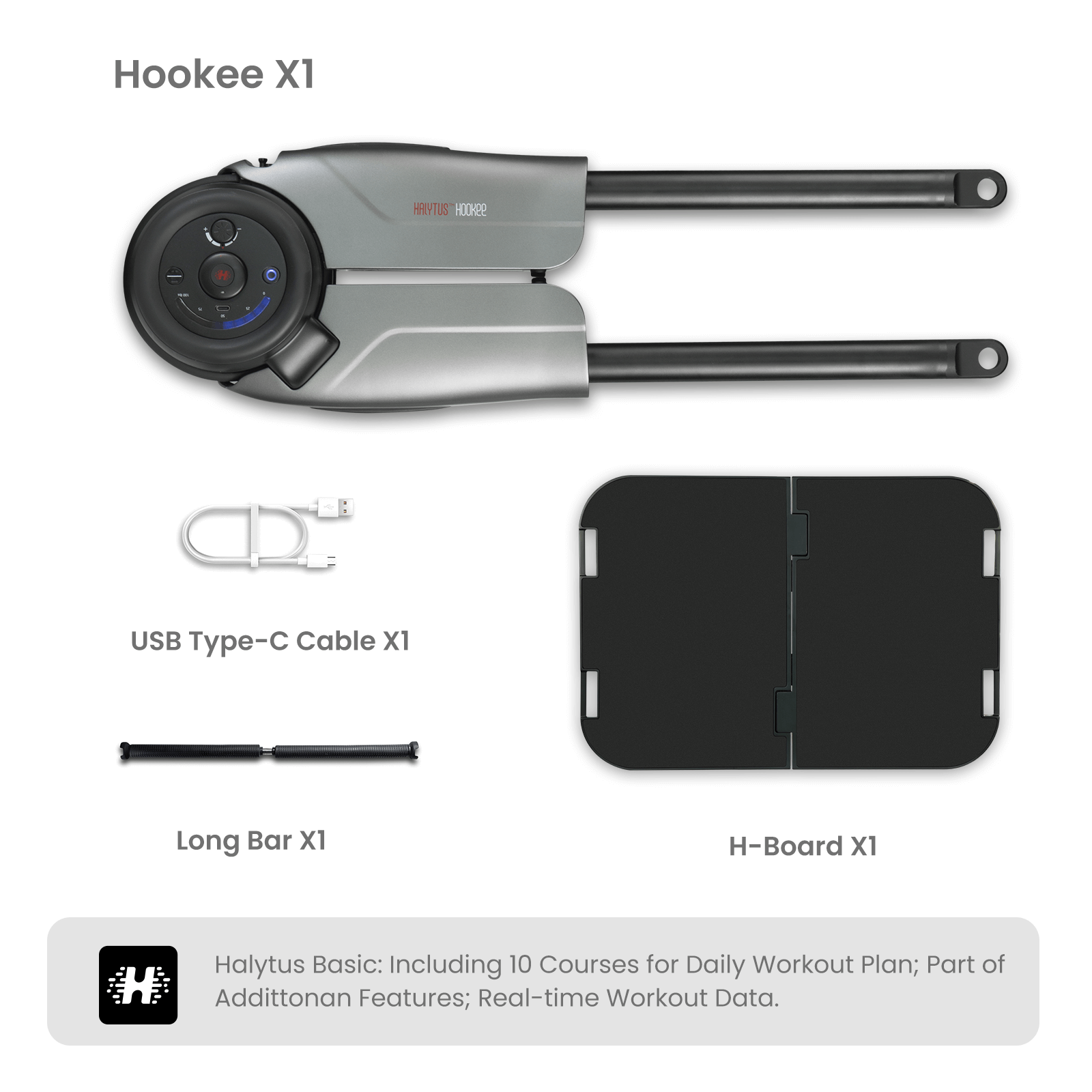 Compare
Which suits me better
On Sale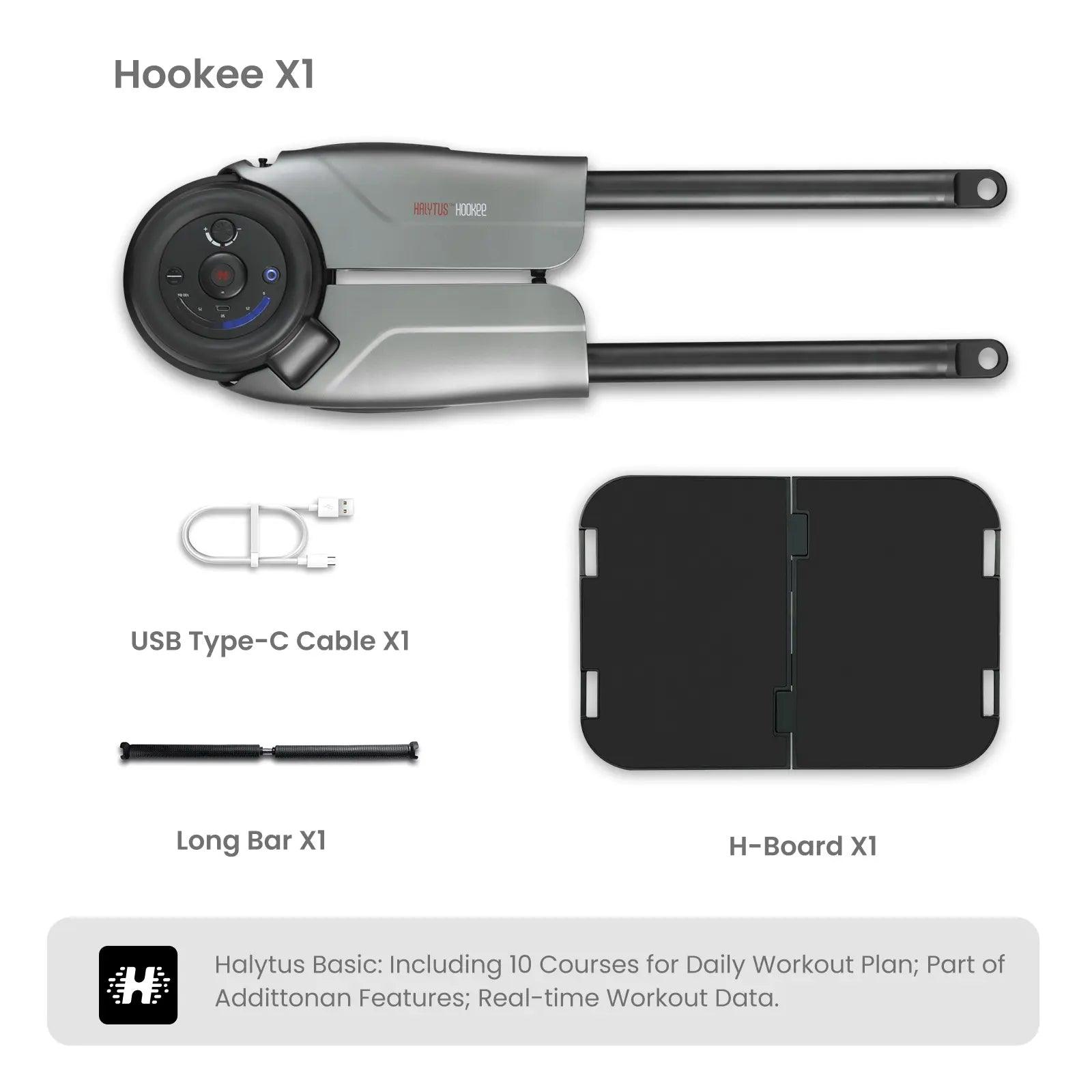 Targeted Muscle
Hamstrings、Gutes、Quadriceps、Biceps、Triceps、Delts、Lats、Traps and more
Hamstrings、Gutes、Quadriceps、Biceps、Triceps、Delts、Lats、Traps and more
Fitness Plan Customization
—
Accessories
Hookee*1
H-Board*1
Long Bar*1
USB Type-C Cable*1
Halytus App Basic
Hookee*1
H-Board*1
Long bar*1
USB Type-C Cable*1
Halytus App Plus
D-Handle*1
H-Anchor*1